Let's meet Jenny!
Jenny is a new agent and she just passed her real estate exam! She is super excited to become a real estate agent. After hours of searching the information online and talking to a lot of brokers, She decided that eXp Realty is the best fit for her. But how does she join exp realty? She has a million questions!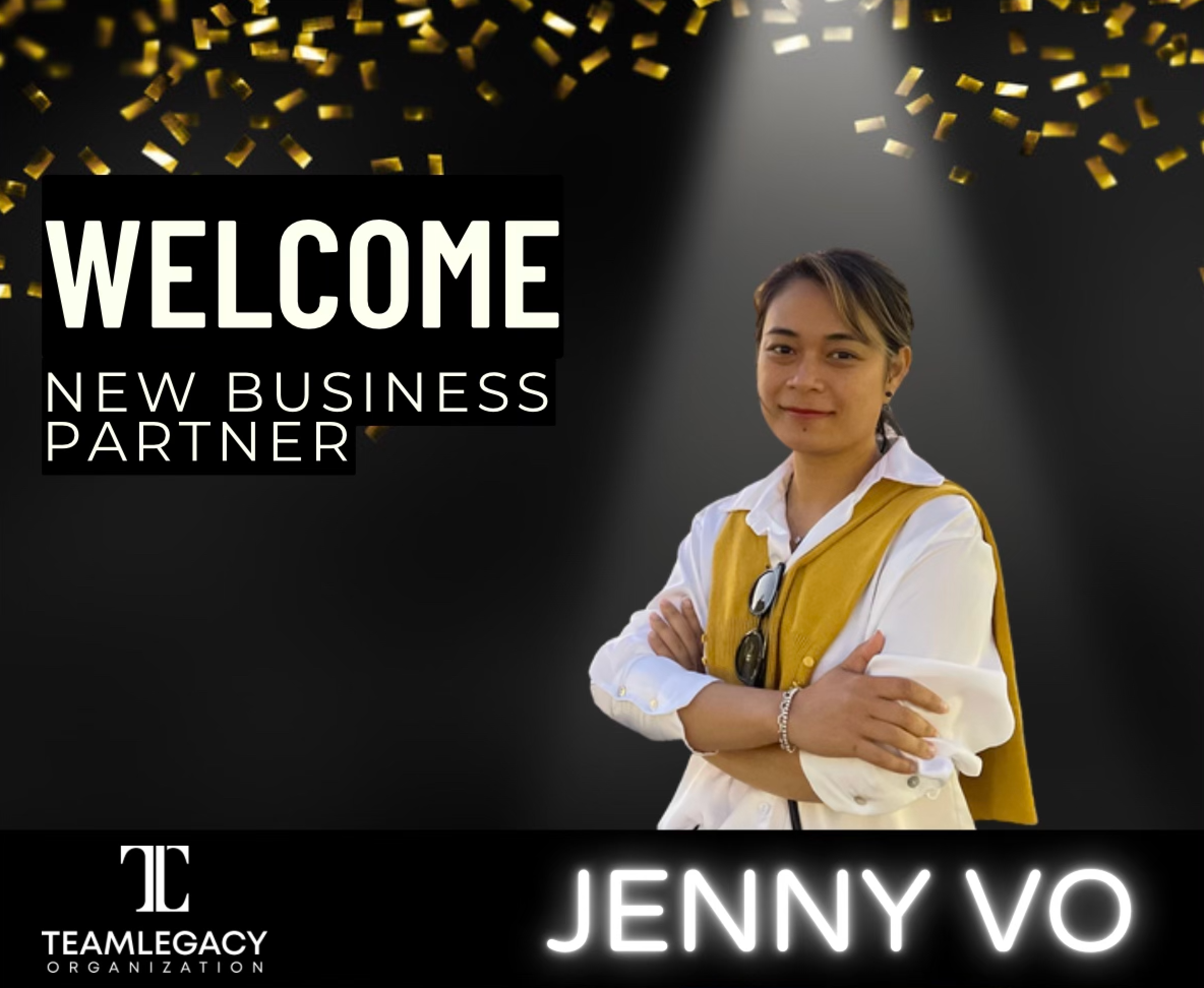 Let's help Jenny out!
eXp Realty onboarding process is a straightforward process. It required 30 mins of your time. Please make sure you are in front of the computer with your real estate license information and bank account or credit card information ready. Let's get started!
Navigate to join.exprealty.com and create an account by clicking on "apply as agent"

After you create an account, you can then login using that same account to sign in and begin the application
The purpose of creating the account is that if you chose to come back and finish your application at a later time, All the information you selected will be saved and you won't have to start over.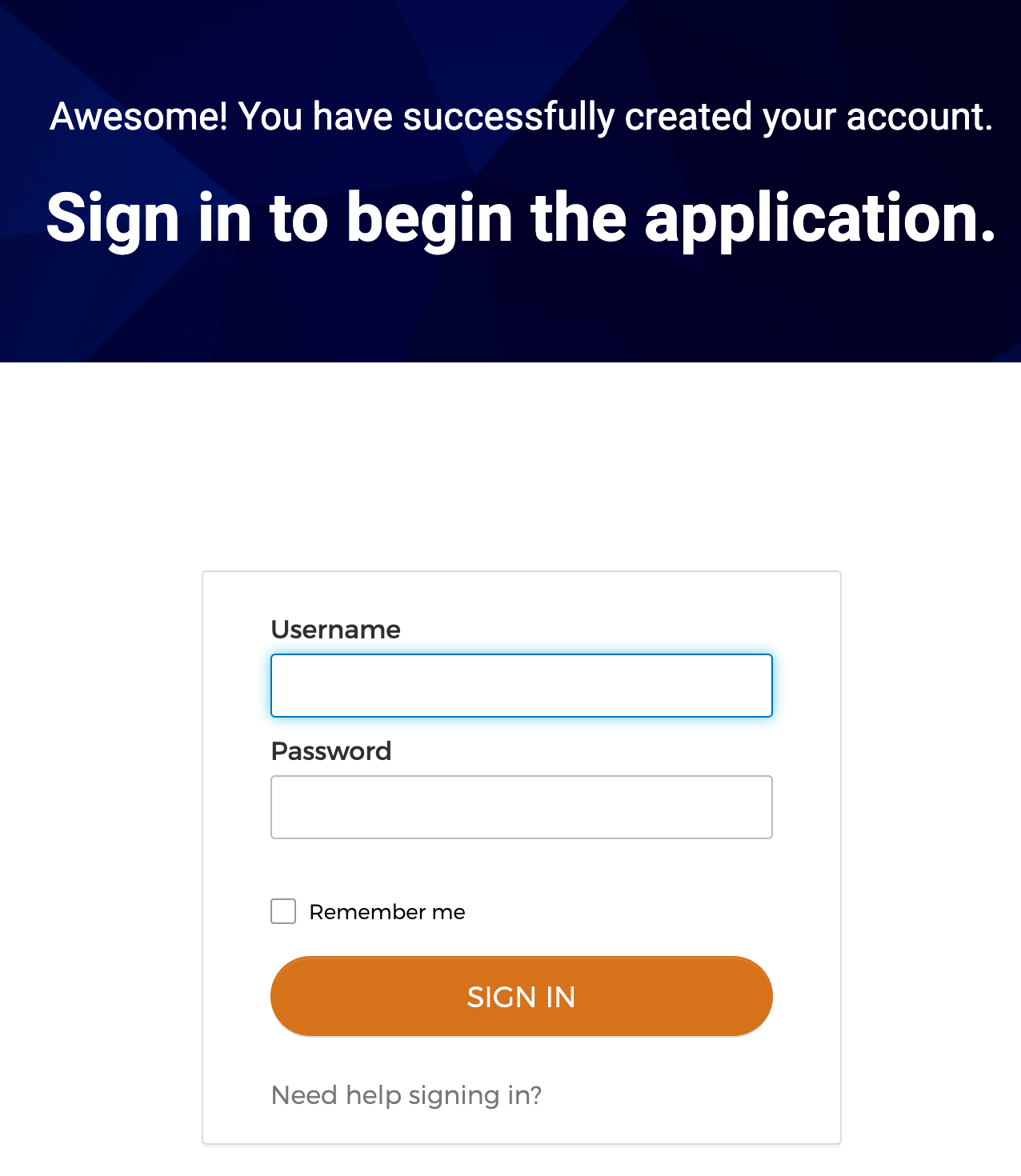 After signing in This is where you will be prompted to a 7-step process to finalize your onboarding process.
How to Apply to join eXp Realty
Click on Let's Go! to begin the application & ICA.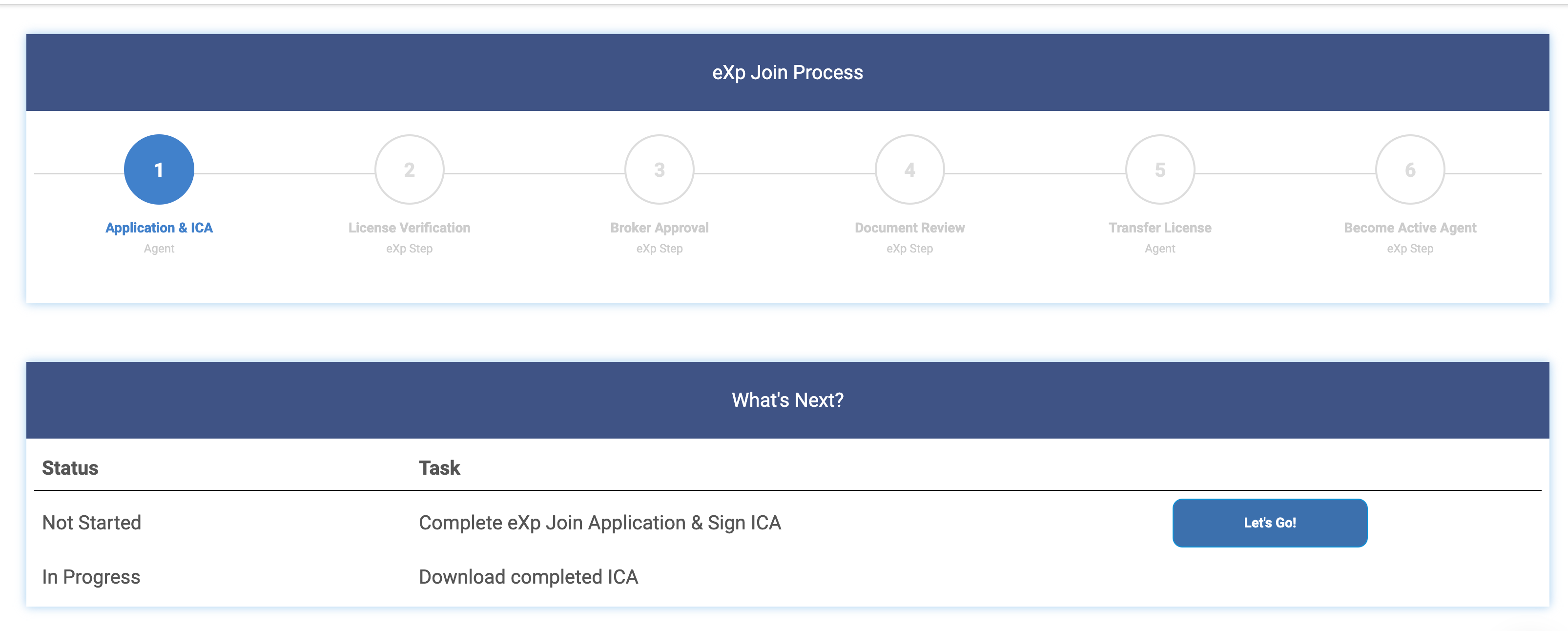 Personal InformationHere you can insert your personal information including name, physical address, and emergency contact information.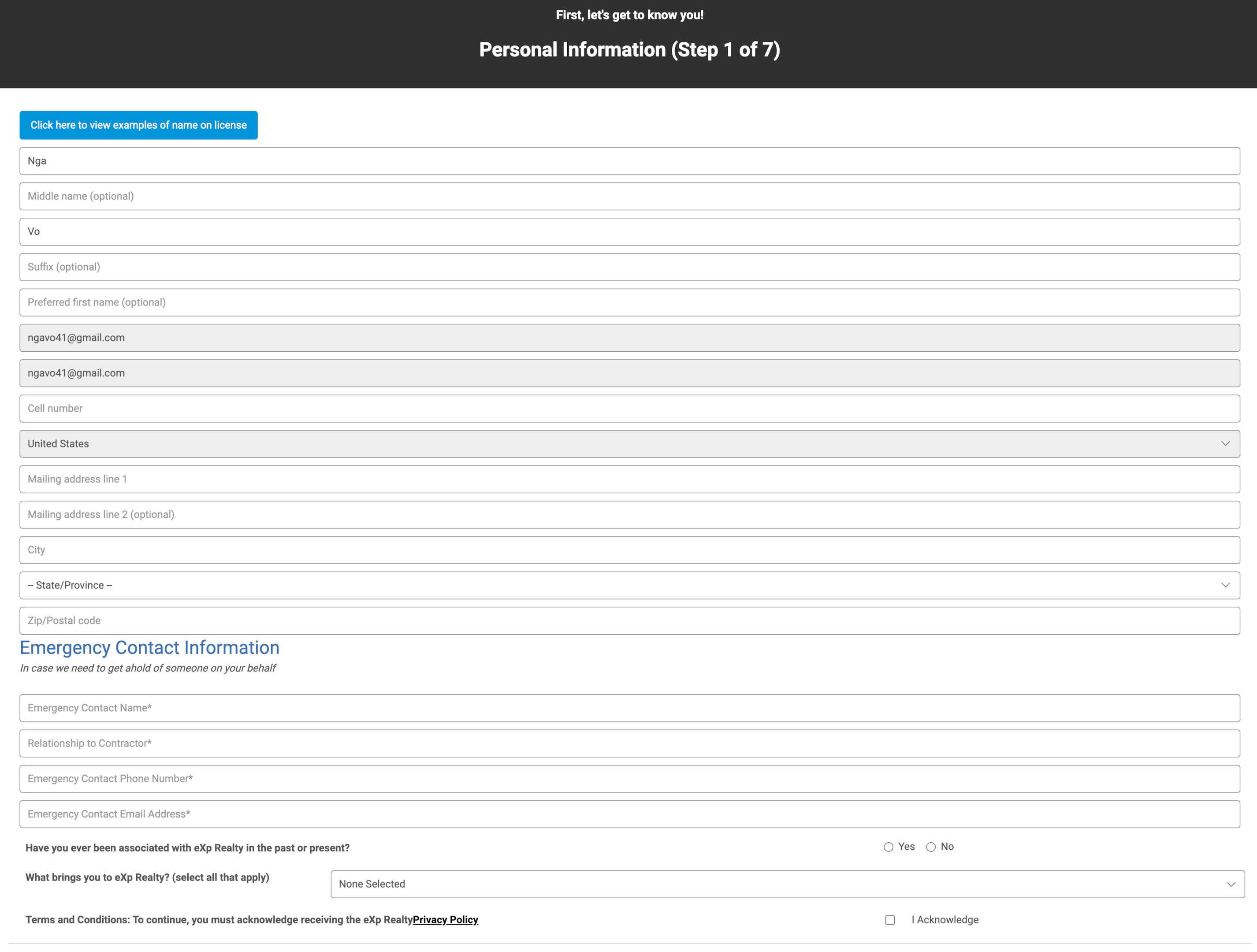 Depending on your answer you might be prompted with additional questions if you are associated with eXp Realty in the past. Jenny is a brand new agent so she selected 'No'.
People come to eXp Realty for different reasons. Whatever it is for you, select one! The list will give you a good breakdown of our company value proposition as well. After you are done, click next
Sponsor InformationThis is perhaps the most important step in the process. It is strongly recommended that you select a sponsor when you want to join eXp Realty. It will play a big part in your career when it comes to revenue sharing.The 2 minutes video will explain exactly what a sponsor at eXp Realty means. In short, it is the person who influences you the most to join eXp Realty.For example, Huy took the time to build a relationship with Jenny. He took Jenny out for coffee and explained the eXp model to Jenny. Huy also goes out of his way to connect Jenny with a lot of people in eXp Realty so Jenny can understand more about the company. Huy also took Jenny to a company event and let Jenny feel the culture that we have here at eXp.Jenny was especially impressed with Jeff & Amanda, the ones who sponsor Huy into the company. She felt like she is in the right revenue-sharing group with Huy being her direct sponsor and she also has support from Jeff & Amanda.Although other people have also poaching Jenny about eXp Realty. But Huy is the one that adds the most value to Jenny. When she got her real estate license, the first person she thought of will be Huy.Jenny then clicks on "select or decline a sponsor". She looks for Huy Nguyen, makes sure the phone number is correct (ending with 6350) and select him as the sponsor and moves on to the next section
Primary Real Estate License Information
Depending on your answer you will be prompted with a different line. A new real estate agent for example does not have an MLS and can skip that section, whereas a real estate agent from another firm has to enter their MLS ID for the transfer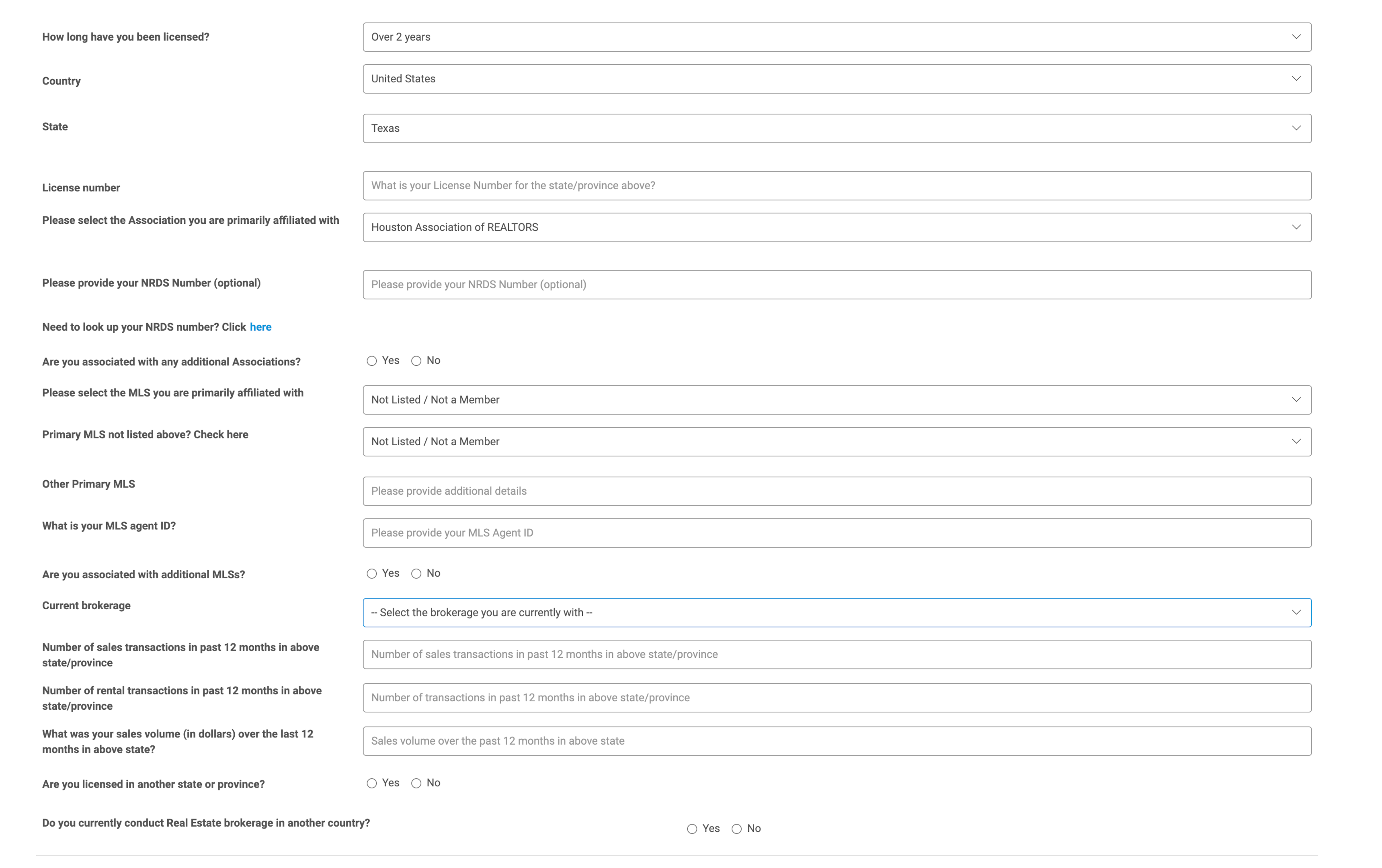 For Jenny she filled out the following since she is a new agent in Houston. she will also select "Houston Association of Realtors" as her main MLS
Note: You have to have your real estate license number ready for this step. SAVE AND CONTINUE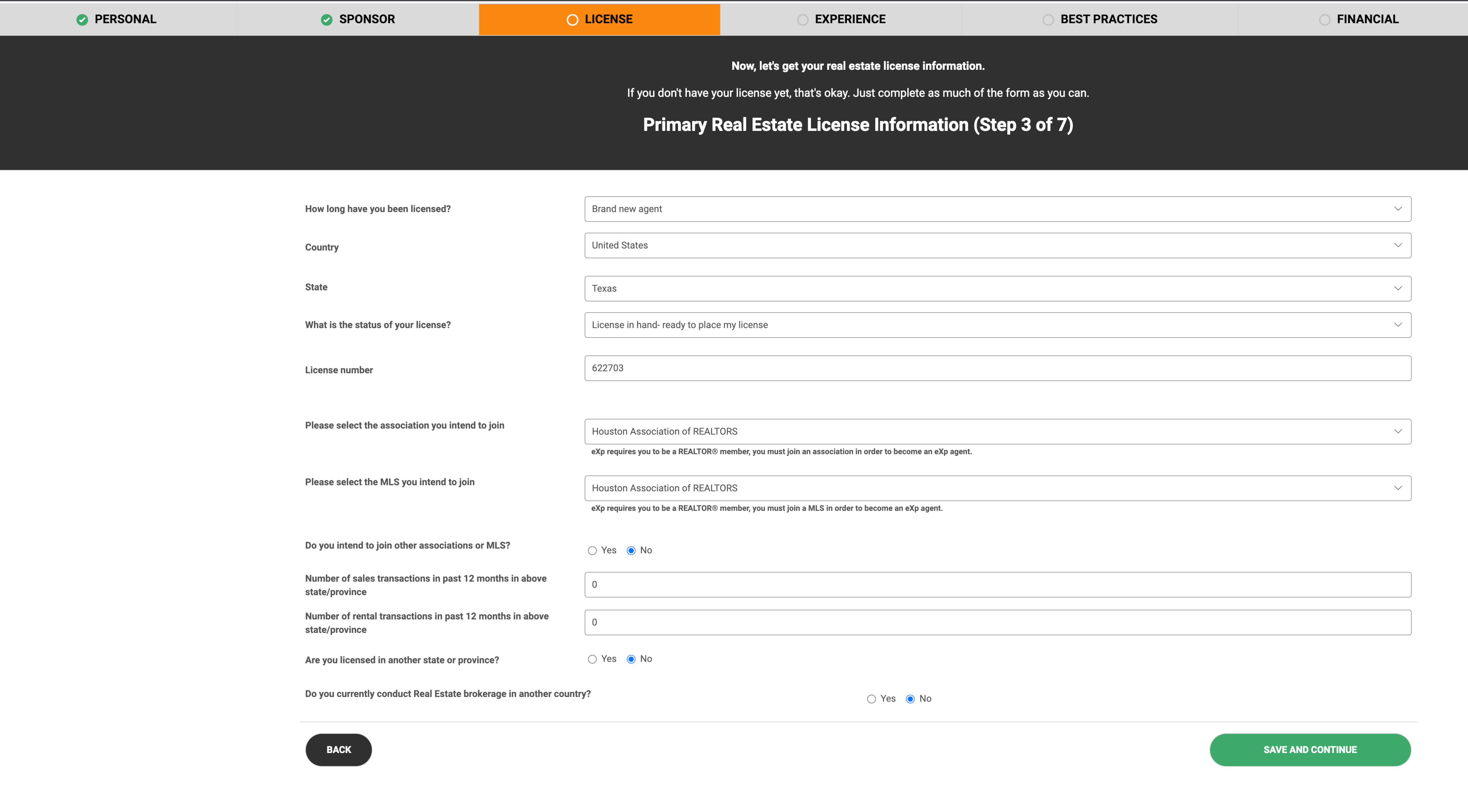 The next section is important. Since Jenny's primary business is residential, she checked yes
If your primary business is Commercial, you will be taken to another section where you can apply to be in the eXp Realty Commercial division.
Please note: You can not apply to become an eXp Realty agent if you own an interest in another brokerage, or if your spouse or partner affiliated is with another Broker. Get this straight out before you applied.
If you have a physical office, you will be prompted to fill out another branch office application. Otherwise, click No
eXp Team Information
eXp Realty has the most dynamic platform where an agent can either conduct business on their own, or in a Team. If you are in a team, you should know by now from your team leader.
I have a self-organized team called the Cash Flow Group where I've added more value to real estate agents on top of what eXp Realty already has. Jenny was selected to opt into my team.
If you are a new agent. Joining a team will automatically opt you out of the eXp Mentor Program
Schedule a call to see if you can be a good fit for the team!
Save and Continue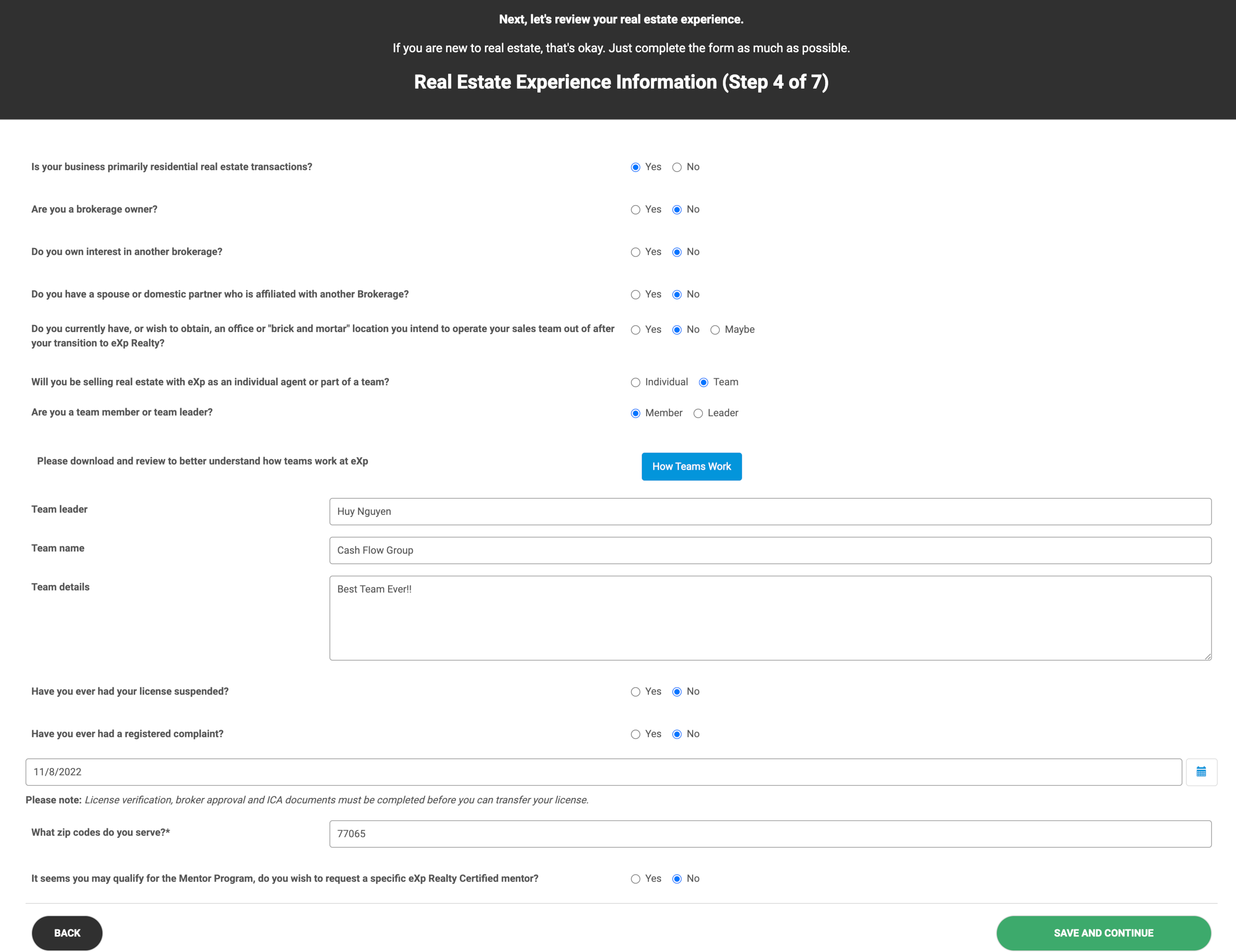 eXp Best Practice Certification
You can not skip. this is an 11.25 minutes video by our founder, Glenn Sanford discussing the do and don't when you join eXp Realty.
Once you finish watching the video, click on Accept, Then Save and Continue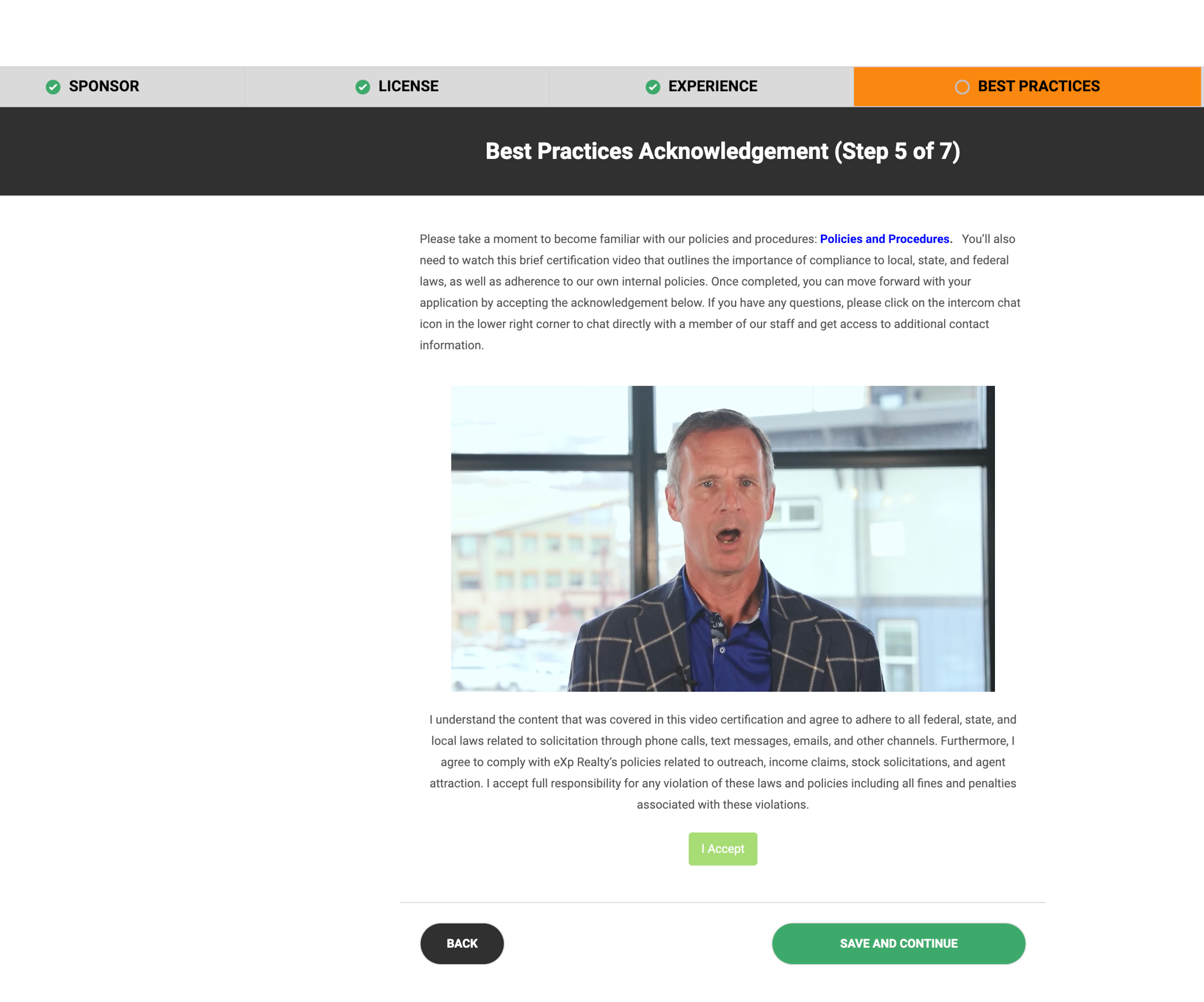 eXp Realty Important Financial Information
You are almost there! This is an important section where your income will be reported to the IRS. Please select the correct classification related to your business, make sure your social is correct then hit Save and Continue
There are no desk fees or royalty fees at eXp Realty. However, there is a $149 joining fee and $85 per month to join what I call our global family. This fee covers all the live training, eXp email address, agent equity program, and revenue share of eXp Realty. You will be required to enter either your checking account or credit card later for this fee.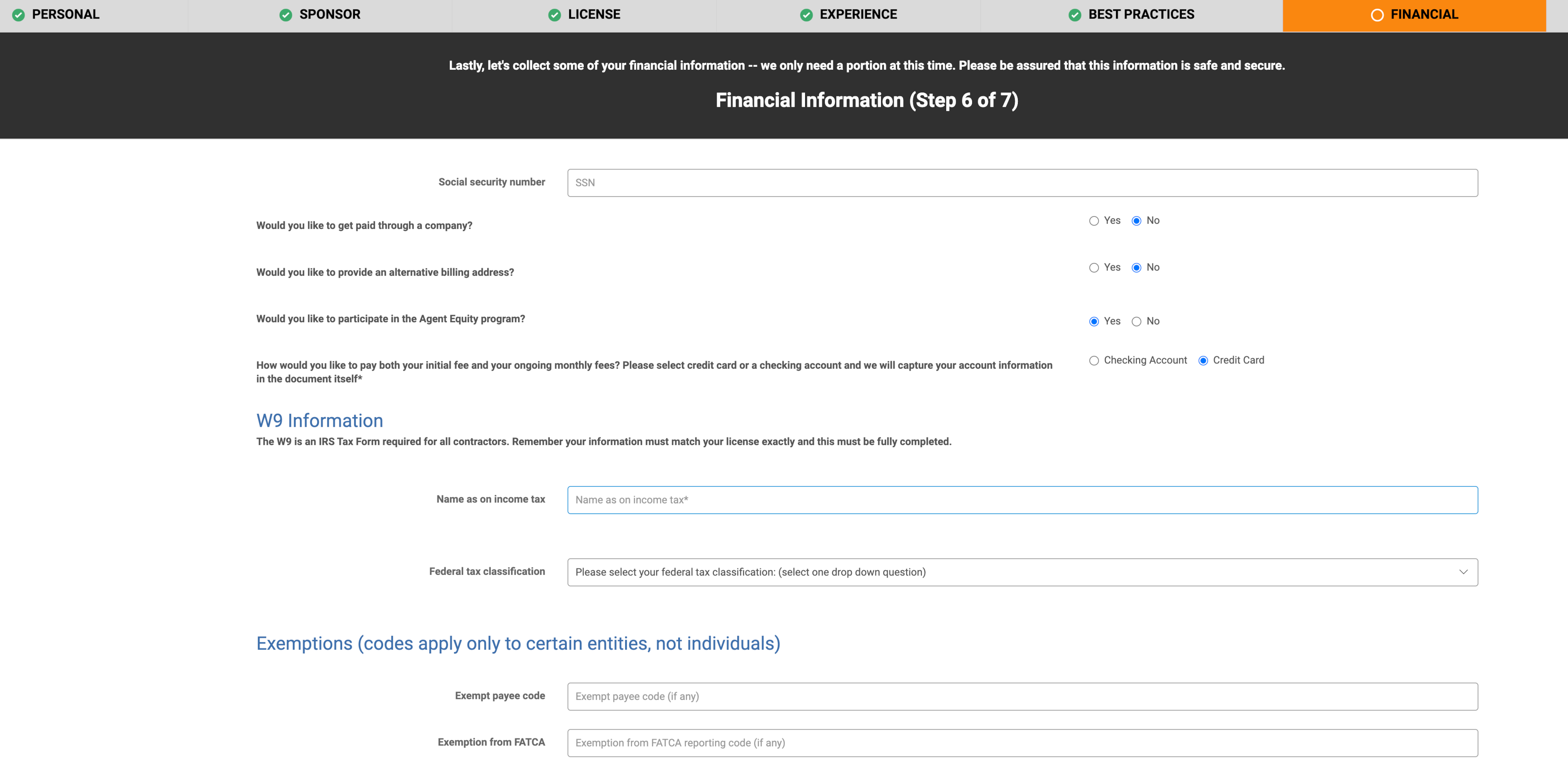 The next section required your bank account for direct deposit.
Any optional field you can skip. Hit SAVE and Continue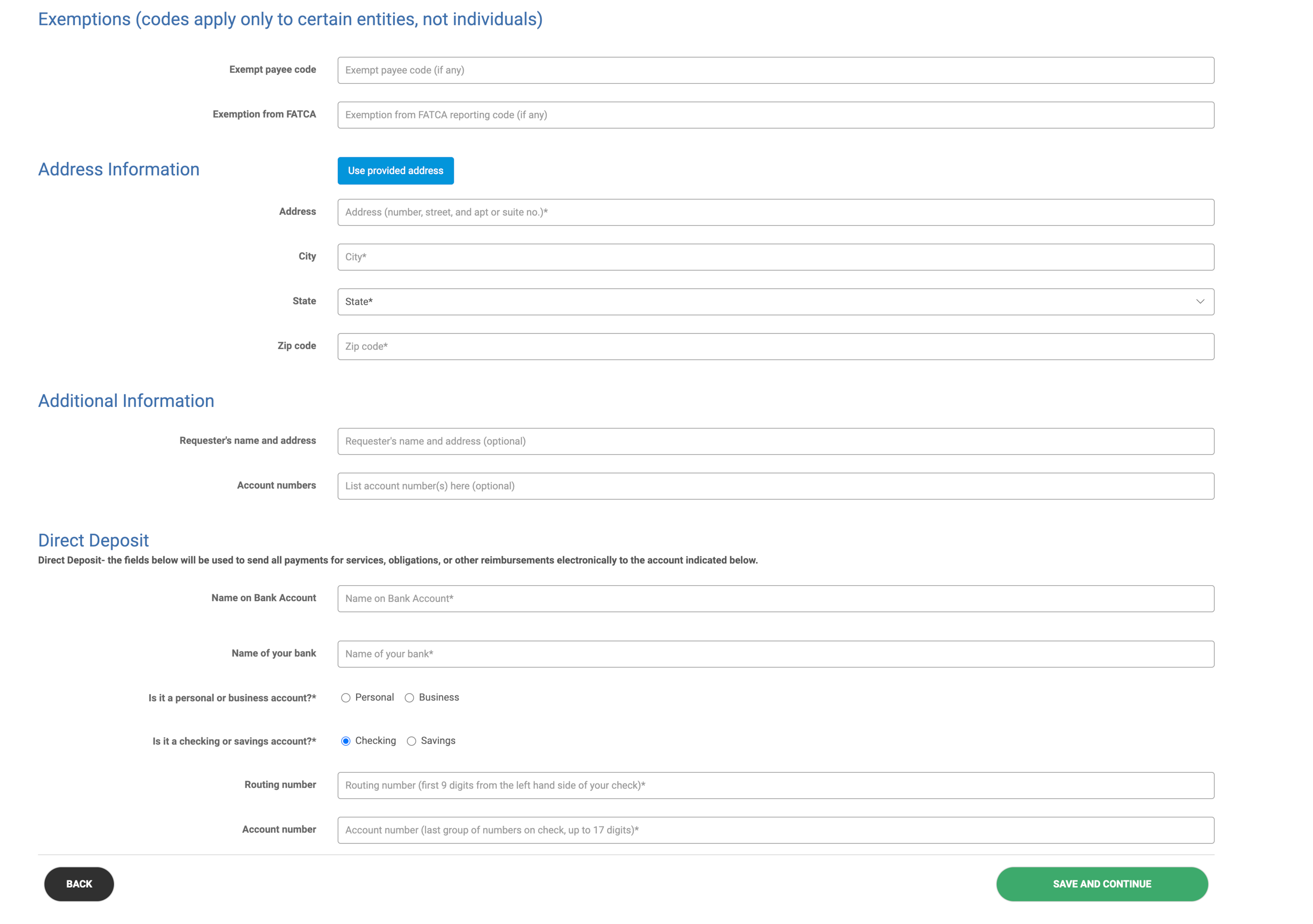 SIGN THE ICA
The system takes your input and generates ICA, Independent contractor agreement for you to sign. You can sign this electronically right on the application page.

Click on Sign my Documents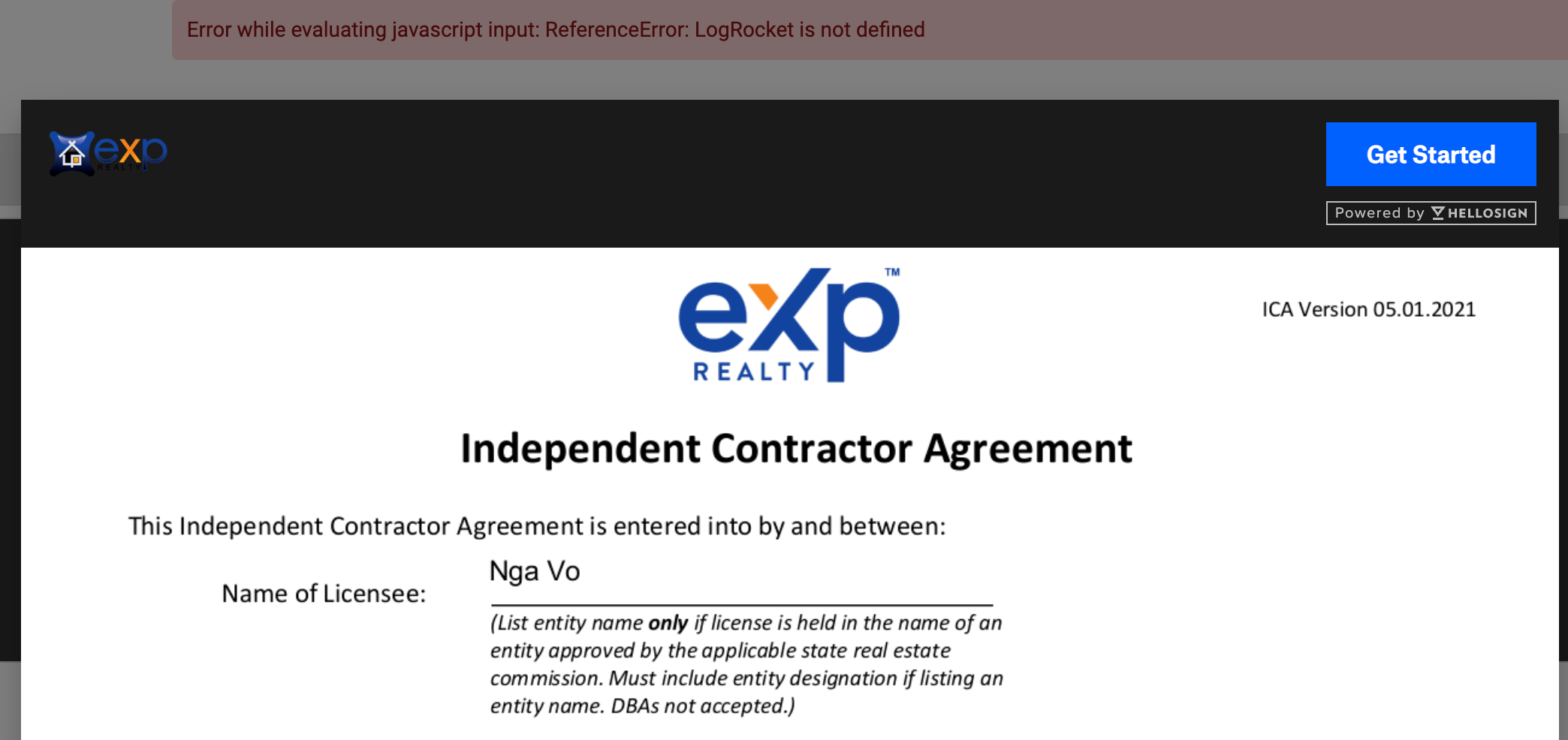 You can spend the next hour reading this Independent contractor agreement, or you can click "Insert Everywhere"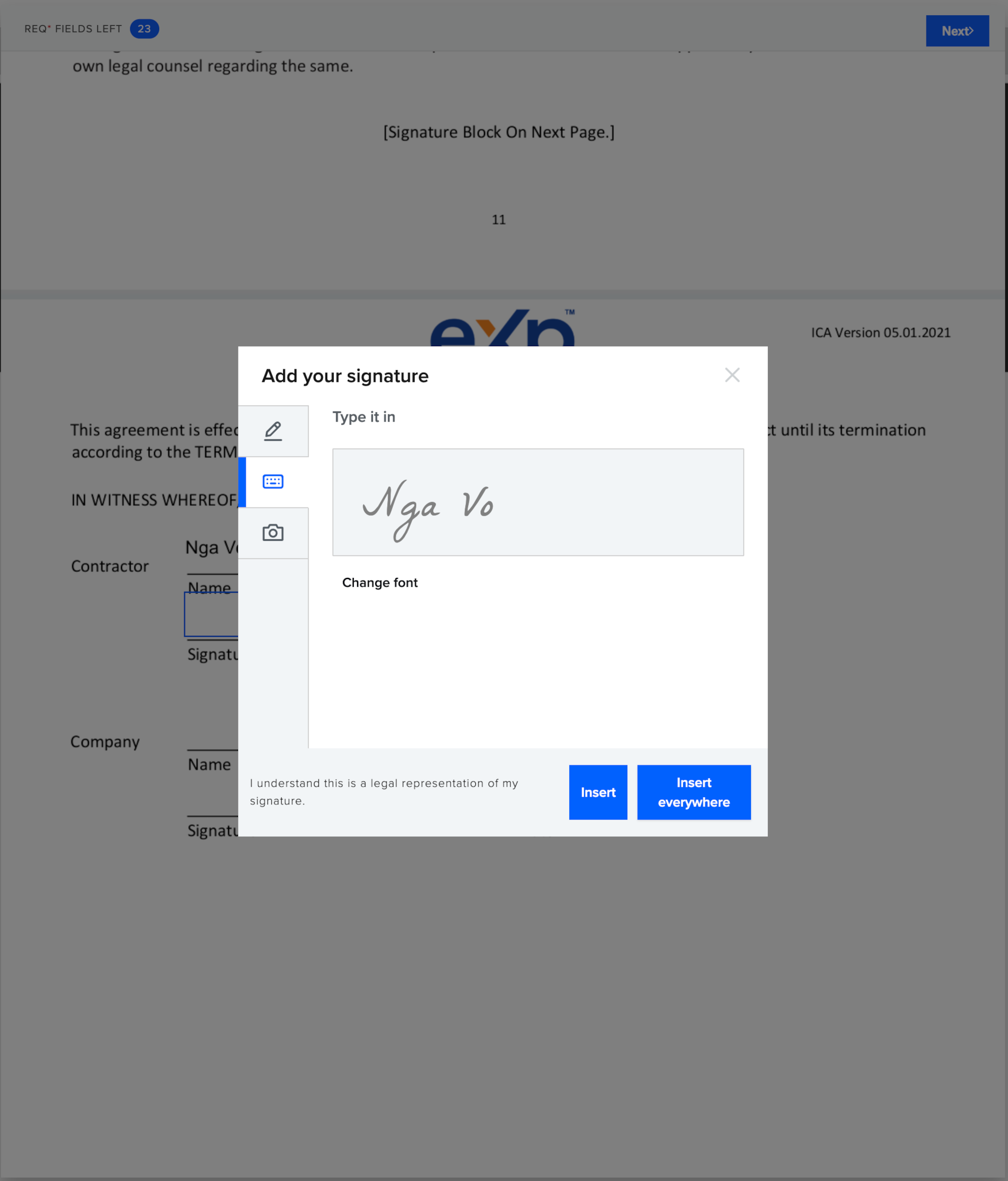 There will be one section where you are required to fill out either your Checking Account or Credit Card for the $149 joining Fee and $85 per month fee.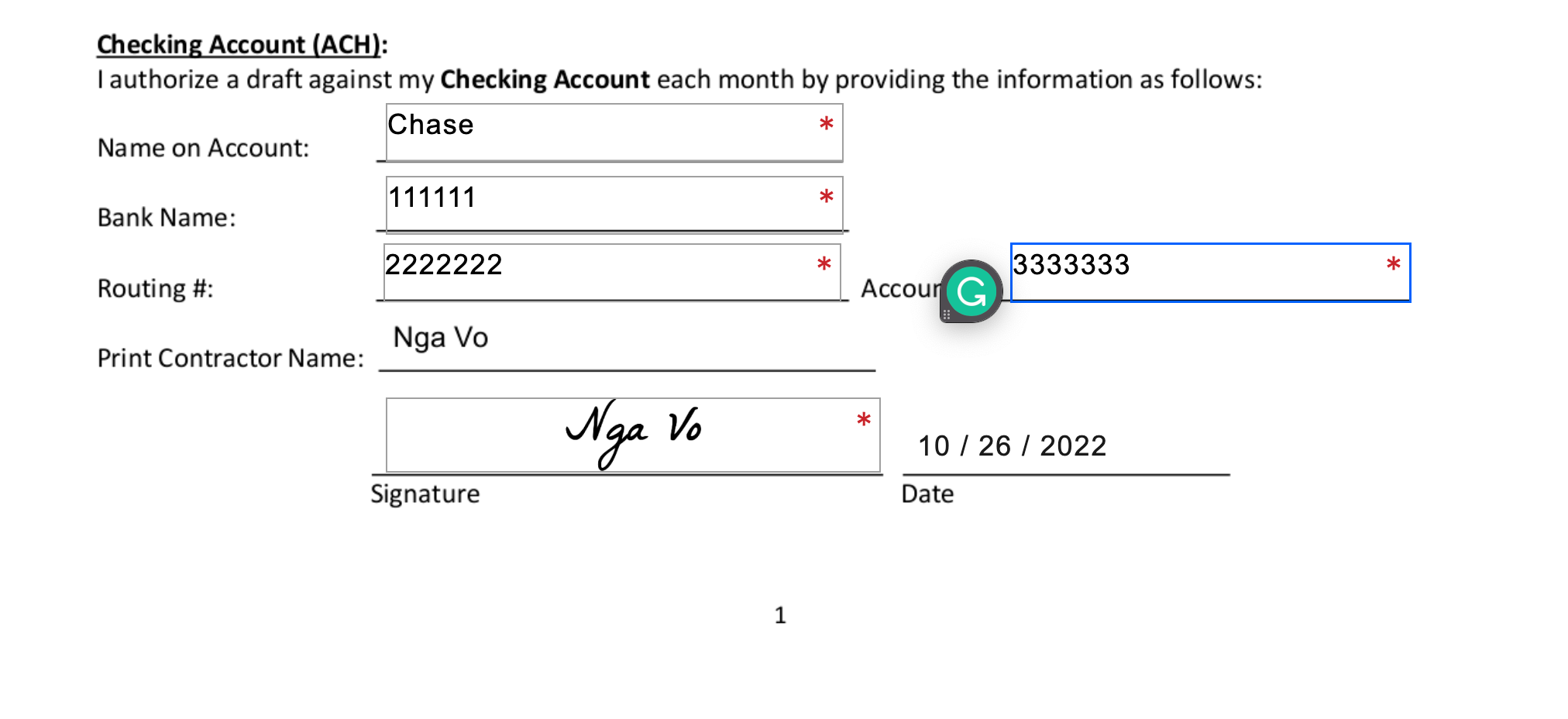 And that is it! congratulation! The broker team will process your license, and send you the instruction to transfer your license to the Real Estate Commission. You Should be an active eXp agent in less than 24 hours!

Frequently Asked Questions about How to join eXp realty
Can a brokerage join eXp Realty?
A Brokerage can join eXp Realty. As a matter of fact, the value proposition of eXp Realty is geared toward independent brokerages. Once independent brokerages join eXp Realty, they will experience reduced overhead, zero liability, keep their name, and an incentive for everyone to grow the brokerages via revenue share instead of just the broker-owner. Schedule a call with us for more detail
Where I can find out more about eXp Realty?
http://life.exprealty.com is a great way to find out more about eXp Realty. I also have a video on YouTube where I have personally explained everything about eXp Realty.
What is eXp World Holdings?
eXp World Holdings is a parent company of eXp Realty, eXp commercial, Virbela, and Success Enterprise. eXp World Holdings is a publicly traded company on the NASDAQ, stock symbol EXPI
Do I need to be in the same local geographic area as my Sponsor?
No, you do not, this is a borderless brokerage where agents can collaborate and do business anywhere in the world. eXp Realty currently operates in 22 counties.
What are Stock Awards and Stock Ownership?
eXp Realty agent will get a reward with shares of EXPI Stocks for reaching a particular goal. Read here for more information about eXp stock awards
What is the back-end transaction management for eXp Realty?
eXp Realty currently uses Skylope for all of its back-end transactions.
What is eXp agent healthcare?
eXp agents will have access to health insurance offered by Clearwater that can save up to thousands of dollars every year.
What is the eXp yearly commission cap?
eXp Realty has one cap of $16,000 that will reset on your anniversary date of joining the company
What does it take to have a successful real estate career at eXp Realty?
A successful real estate career comes from hard work, commitment, and the willing to do whatever it takes. Successful agents at eXp Realty takes the time to go to training on the cloud, attend event, practice what they learn, have fundamental knowledge, and have a strategic partnership with other eXp agents to learn and grow together.
What is an eXp learning platform?
eXp is the 1st cloud brokerage in the world. they have world-class education offered through eXp World, a metaverse developed by Virbela. eXp agents also can get training from their designated managing broker, from the workplace, and from their mentor or sponsor.
Who are the top producing agents at eXp Realty?
Top-producing agents are often referred to as ICON agents in eXp Realty. ICON agents can earn back the $16,000 cap they paid into eXp by attending company conferences and contributing to the culture of eXp Realty
What is exp realty takes?
eXp Realty split is 80/20 with a $16,000 USD cap per anniversary year. 50% of exp realty takes is given back to exp agents in the form of revenue share.
What is exp realty offers?
exp Realty offers many things in exchange for their split. There are probably more than 100 things that eXp realty offers but some of the main ones are Training, Stock ownership, Revenue share, Healthcare, and a unique collaborative culture that you can not find at any other brokerage.
What are agent transaction fees at eXp Realty?
In the United State, there will be a $40 E&O Fee per transaction capped at $500. $25 Broker review fee per transaction.
After an agent capped at eXp Realty, there is a $250 flat fee per transaction for the next 20 deals, and a $75 flat fee per transaction for the 21st deal onward until the anniversary reset date
What is a certified exp mentor?
A Certified eXp Mentor is an experience eXp agent who has been doing eXp required training and is equipped with all the tools and knowledge necessary to mentor newly licensed agents. Contact your sponsor to see if you are a good fit for the eXp mentor program.
Who is eXp state broker?
Each state will have a designated state broker team who is in charge of all the compliance in the state as well as offering support and training specific to that state to support the state's local geographic area
What are the exp Canada agent fees?
eXp Canada has a slightly different fee structure than the US with a $199 CDN Startup Fee and a $139 per month cloud brokerage fee.
Are there minimum sales transactions closed at eXp Realty?
There are no minimum sales transactions at eXp Realty. However, agents are encouraged to close at least $5,000 in Gross Commission Income every 6 months to achieve Front Line Qualifying Agent status.
What is eXp workplace?
Workplace is a collaborative platform built by Facebook with a similar look and feel. eXp agents used workplace to socialize, interact and connect via workplace.
Can new agents succeed at eXp Realty?
We have many stories of new agents and part-time agent success at eXp Realty. Learn more about a new agent's success by reading here
What is an Independent contractors agreement?
This is a document between outlines all the legality between the agents and eXp Realty. All real estate agents are independent contractors and not an employee of eXp Realty.